Is It Time to Find a New Church?  Here's 5 Blinking Light Indicators.
Written by Kathy McGinnis | Staff Writer for www.Goombay Tally | Religious and Humor
Experts claim there are over 37 million churches in the world right now with roughly 34,000 different Christian denominations mixed in.  Additionally, there's nearly 50,000 new ones added to that "holy roster" every year with about 1,200 of those being right here in the good ol' United States.  You guessed it, that's a lot of different ways to "serve the Lord" if you will.
And just like a unique fingerprint … no two churches are exactly the same.
Furthermore, those statistics also mean that the probability of you and your family finding a church body that (specifically) meets every single one of your spiritual, doctrinal, and fellowship needs, is probably a long-shot at best. Instead, as Christians, we tend to find a church body that meets at least 70% of our perceived spiritual needs, and then we gradually become uncultured into that community.
That's generally how it works I think.
But what happens when you start to feel that your church no longer sparks that fire in your soul anymore or as the legendary blues singer B.B. King would sing, "The Thrill is Gone"?  
Now, before I get a ton of hate mail from churches across the world…I get it, the thrill for the Lord and his mercy should be in our hearts regardless of the church body we find ourselves in.  But let's be real here for a second…unfortunately, there are pastors and congregations out there that have the uncanny ability to suck the very life out of a church service specifically, and out of the Christian experience in general.  We've all been there and done that I'm sure.  Some of you are there now.
I remember moving to a new town in Colorado years ago and visiting my first church in the area.  Without getting into the painful details, I nearly fell asleep (or as I now tell friends–fell into a holy coma) before the sermon was half-way over.  Embarrassing drooling action and all.  Yep, not proud of that moment by any stretch, but that first-time experience was enough for me to quickly continue my search for a new spiritual home without investing anymore time in a church that just wasn't going to work out long term.  And I suspect that we've all been there in the past.
So what do we do when we feel the need to exit the proverbial church "back door" (the metaphorical way to describe people leaving the church) as Dr. Thom Rainer wrote in his blog post, The Main Reason People Leave a Church.   (thomrainer.com)
Thom Rainer also outlined in his post some direct quotes from exit interviews of people who actually left congregations:
"The worship leader refused to listen to me about the songs and music I wanted."
"The pastor did not feed me."
"No one from my church visited me."
"I was not about to support the building program they wanted."
"I was out two weeks and no one called me."
"They moved the times of the worship services and it messed up my schedule."
"I told my pastor to go visit my cousin and he never did."
Fascinating excuses for leaving your church, but I've attending many churches throughout my lifetime; not only within the United States but in seven separate countries.  Each pastor, minister, or priest brought to their church and congregation their own unique brand of Christianity and worship.
That said, one universal truth that I've learned over time is that nobody (regardless of how much they convince you otherwise) has a complete lock on "Jesus" and what it takes to be an effective Christian.  Grant it, some ministers are just better equipped to deliver and interpret the Word of God in such a way that resonates with our souls and seemingly enhances our personal experience with Christ.
…One universal truth that I've learned over time is that nobody (regardless of how much they convince you otherwise) has a complete lock on "Jesus" and what it takes to be an effective Christian.
These tend to be the churches that are logistically required to hold three separate services on Sunday morning, and require local Police or Sheriff Department traffic control checkpoints on Easter Sundays.  They are huge.
And good for them.  Their outreach capability and capacity is "boss."
But if you are already well entrenched and established in a church — what are some signs that you just may not be getting the spiritual nourishment and growth that you were hoping for when you first started attending?  The following is light-hearted (but all too often true) food for thought: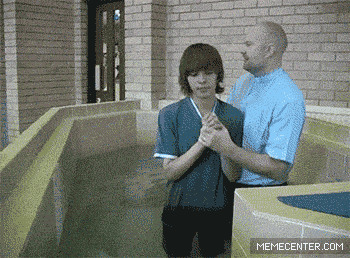 1.  Your pastor lives in a $3 million mansion while the rest of the congregation is struggling to keep the lights on.
I'm not saying that God doesn't want us to be prosperous in life and to enjoy physical blessings … on the contrary. But let's be honest here…if your pastor is the only one in church driving a brand new Mercedes-Benz, living in a mansion the size of "Prince's" compound, and wearing $5,000 suits…rest assure, his or her "prosperity ministry" only has one successful beneficiary…and it definitely ain't you.
Now I'm certainly not knocking the successful televangelists who make millions of dollars a year, own sleek personal jets (and flight lines, *Kenneth Copeland), and need personal bodyguards when they travel …  but the obvious irony here is that they are all living quite extravagantly by preaching and teaching about a man who lived a very servant-oriented, simplistic, minimalistic, and transient lifestyle by comparison.  
Worst yet.  I suspect that if Jesus physically set foot back on earth this afternoon and decided to pay a visit with one of his "elite" and dedicated evangelists at one of their uber-mansions in north Texas, their security teams would probably attempt to apprehend him and ask … "what business he has with Reverend (fill in the blank)."
Isn't capitalism a wonderful thing?
2. When you invest a fortune into the "church fund" but the roof is literally falling in on itself.
I once sat through a church service years ago that collected three separate offerings from the congregation for the "church fund." Frankly, it was embarrassing.   It essentially turned the church service into an extended NPR fundraiser marathon. My family and I now refer to that service as the "Holy Shakedown" or the "First Baptist Church of the ATM." Mind you, there is absolutely nothing wrong with taking care of the physical building where you worship the Lord.  That's just good stewardship.  However, if your church collects an extraordinary amount of money for a church fund but you can't recall seeing a single major repair or upgrade in years … nuclear launch-style red flags and sirens should be blaring. (Also refer to Reason#1 above)
3.  High fashion!  Low outreach.
Have you ever attended a church service where the congregation looked like they were all in competition for the "Best Dressed Baptist of the Year Award"?  No, that award doesn't actually exist, (I don't believe) but you've probably visited that church at one point in your life.
Essentially, if you're not "dressed for success," i.e., wearing fancy suits, expensive dresses, name brand footwear, and imported ties, don't think about entering the holy sanctuary." There have even been stories told of first-time attendees being turned away from worship at certain churches because they were not dressed in slacks, a suit and tie, or expensive dresses etc.  That's just shameful to me.
Personally, in a country where regular church attendance rates are dropping exponentially every year, I believe God is less concerned about what you wear in his house than the fact that you actually get your butt in a pew on Sunday in the first place.  And yes, there is the issue of "appropriateness"… you certainly don't want to see revealing clothing that distracts away from the service either.  Trust me…eyes will wander…church or not.  But I refuse to believe that God will turn you away at the door because you're wearing a "John Deere" T-shirt and Wrangler jeans.  But that's just me.  Bottomline:  churches that seem more interested in outward appearances than how they can minister to the physical and spiritual needs of those that attend, may not be worth your time.
4.  Wow! That was a great service…now what was the sermon about again?
Hey @badchurchsign, here's one for you. pic.twitter.com/hNGdTu5QLn

— Zac Novak (@zacnovak) May 16, 2014
Growing and keeping a [young] church congregation in today's socially progressive environment has to be a daunting task for sure and I don't envy any pastor or church staff for that challenge. Let's face it, the modern church is in direct competition with Hollywood, MTV, Drake, Kim Kardashian, the NFL, Swooping Meadows Golf Course (or something like that), and a society that rewards humanism and individuality while vehemently attacking religious institutions.
Moreover, pastors are slowly moving away from the traditional trappings of the past and embracing the subtle (and not so subtle) integration of modern technology, multimedia, coffee kiosks and donut stands, contemporary christian music, social media, and live streaming service capabilities.  And honestly, I think it's not only a good thing, but inevitable.  Additionally, I don't buy the belief that your service or worship is "more pure" if you forgo the cross-pollination of modern day technology or popular trends. But I have experienced services where you know the church leadership is not only "trying way to hard" to attract today's youth, but probably find themselves out of bounds both biblically and spiritually.  Bottoming:  If your church has so many distractions that you walk out not really remembering what the main takeaway was from the sermon, there may be some focus issues going on.
5. Checkbox Christians.
I'll be the last person to proclaim that I have everything in life all figured out and that I'm the poster child for Christianity Today Magazine.  I fail on a daily basis.  Sometimes hourly.
So I certainly tread lightly when I use the term "checkbox christians" or professed christians who [really] only attend church to meet their perceived civic, family, or traditional obligations.  I remember inviting my roommate in college to church one Sunday and he surprisingly agreed to attend even after a late night partying at a few of the local clubs in the area.  I still chuckle today when I recall my roommate and I quickly finding a pew to sit down and him suddenly focusing his stare on an attractive young lady sitting to the far right side of the chapel.  I cringed to think what comment he was about to make about her but was even more surprised to hear him yell out instead, "Hey, I saw her at the club last night!"  It was both mortifying and hilarious at the same time.
But to my point.
I attend church to draw inspiration, mentoring, motivation, and encouragement from those who are patently different from regular "Joe" who drinks too much, chases too many women, and uses the Lord's name in ways that will make you grandmother slap you into next Thursday.
When I attend church, I personally need the strength and motivation of those who are going to help keep my sorry butt out of the clubs and hangouts that will destroy my walk with Christ.  If you find that your church lacks those mentors in an exponential way…it may be time to find a different church to facilitate your continued spiritual growth.  
In summary, there is no perfect church out there in the religious ecosystem, but there are certainly (more than) enough to find the one that facilitates your walk with God in a meaningful and inspirational way.
Written by Goombay Tally Staff | Goombay Tally Blog